Restoring a vehicle to its like-new condition can be one of the most rewarding projects an automobile owner can undertake. It can also be one of the most frustrating endeavors --- depending on the make, age and condition of the car. In certain instances, parts can be hard to come by. Rust may have eaten its way to the point of no return. Etcetera, etcetera, etcetera. However, while there are no real shortcuts when it comes to doing the job right, there are routes you can take toward having a much more enjoyable restoration experience --- from start to rev to finish!
Get It Covered
The best place to store a car is out of the weather, preferably inside a building that's cool, dark, and dry. If you don't have a garage, look into renting one. If this isn't possible, a reasonable alternative is to store it inside a portable enclosure, or portable garage. If the vehicle will be completely sealed from outside air, place a couple bags of desiccant inside the enclosure with it to absorb trapped moisture. Whether outside or inside, cover your collectible with a quality car cover that has thick, multi-layered fabric.

We recommend a car cover made with DUSTOP® Fabric - Soft as Flannel. Provides more than four times the dust protection of woven flannels while providing comparably soft protection for your car's finish. Thicker, for better protection against scratches and dings and lighter than flannel car covers so it's easier to use. Three-year warranty. Available in tan.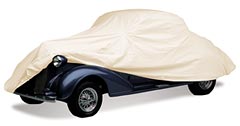 For more information about Block-It® Fabrics, click on our logo