Protecting Your Investment

What you should know about collector car insurance
Collector Car Insurance Tips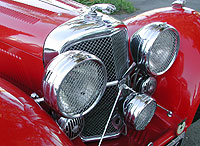 After spending four days driving the 2001 California Mille Miglia over some of the most challenging roads in America, it became real apparent that vintage cars are spending less time in the museum and more time on the road. Thank goodness for that! While their grace and beauty can be admired in a museum, nothing matches the dimensional quality of hearing and seeing automotive legends in their true element on the open road. One of the big issues facing a car collector is how to protect his car and investment, especially if it is being driven. While anti-theft devices and on-board fire systems are a good idea, an ironclad insurance policy is the ultimate protection against catastrophic loss.
Where to Start
Specialty vehicles typically covered by collector car insurance include vintage vehicles 25 years old and older, street rods, musclecars, motorcycles and exotics. A good time to start looking for insurance is before you purchase the vehicle. Contact several collector car/specialty insurance firms to see if your vehicle qualifies. Don't overlook your current auto insurer as he may offer a special "rider policy" that lets you add a limited-use, specialty vehicle to your normal insurance policy. The most desirable policy is an agreed value policy where if a total loss occurs, the car owner will be reimbursed the full amount of the assessed value stated on the policy. So it's important to establish how much your vehicle is worth. The most common method is to use the current-pricing guides available or to have a professional appraisal done. If your vehicle is less than $20,000 in value, many companies require filling out a form describing the vehicle. For more valuable cars it's a good idea (and sometimes required) to get a professional appraiser to establish the value of your vehicle.
Finding A Policy That Fits

Because specialty vehicle insurance is very affordable it comes with a lot of restrictions. The plan is to find the policy that fits you and your car. Typical annual mileage restrictions range from 2,500-5,000 miles. If you attend a few cross-country events such as the California Mille or the Hot Rod Powertour you can burn that mileage up quickly. Some policies limit the types of driving that can be done, such as casual weekend driving. Many insurance companies require proof of a primary transportation vehicle that is registered and insured to you. Others place stipulations on storage by requiring locked, alarmed structures with sprinkler systems. Be aware that most policies are not in effect if you enter your vehicle in a racing event although coverage is available for that through a number of racing insurance companies.
What to Expect
• Every insurance company has its individual program but in general terms here's what you can expect:
• A non-deductible agreed upon value (by you and the insurance company).
• A yearly mileage cap.
• To provide proof of ownership of a separate transportation vehicle.
• To provide the address of where vehicle will be stored when not being driven.
• To pay approximately one percent of total vehicle value for comprehensive and collision coverage, and a nominal fee for liability.
• Freedom to get your vehicle repaired at the shop of your choice.
When you consider what's at risk, collector car insurance could be the best bargain around.
Resources
www.hagerty.com
www.autoappraisal.com
www.classicins.com
www.tsicollectorcar.com
www.grundy.com
www.americancollectorsins.com
www.condonskelly.com